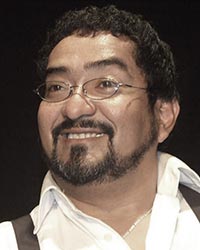 Born in Guayaquil, Ecuador, Andrés is a TV and theater actor.
He was a member of the renowned Guayaquilean theater group "La Mueca", which brought on stage many successful plays, thus he is well known and admired all over the country.
In the 80s he achieved fame playing the character "Pablo Vera" on the hit sitcom "Mis Adorables Entenados" of Ecuavisa network.
Later on, he joined the cast of "El Show de Felipe" (TC Television Channel), "Mis Adorables Entenados con Billete" and "Súbete a mi Taxi" (RTS Network), in addition to "Visa para un Sueño" (Ecuavisa).
He has worked in dramas such as "De la Vida Real", comedies like "Solteros sin Compromiso" and the soap opera "Amores que matan".