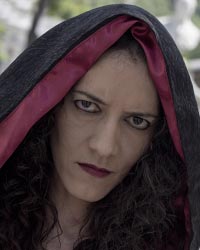 Puerto Rican; theater, film, television and voice over actress; she lives in New York since 2009.
She's a member of SAG-AFTRA and the Hispanic Organization of Latin Actors (HOLA). Also an actress/company member of Spanish Theatre Repertory of New York and Associate Artist of New York's theater companies Boundless Theatre Company and Teatro Círculo.
On stage she has performed in more than 40 plays between Puerto Rico, North Carolina, Bogotá (Colombia) and New York.
Currently in New York, she's part of the cast of "The Shoemaker's Prodigious Wife" (2014 HOLA Award). Some of her credits in NY are: "Carmen Loisaida" (2014 HOLA and ACE Awards), "The House of Bernarda Alba" (Nomination 2011 ATI Awards), "Láyel", "Broken City: L.E.S.", "Julián & Romero", "Out in the Open", "Oh, De Sea!", "7Days/7Plays", "El caballero del milagro", "LoveDotCom".
On film she has performed in the movies "Maldeamores" (Lovesickness), produced by Benicio Del Toro, filmed in Puerto Rico, and "Main Street" filmed in North Carolina. Also she's been in series, sit-coms, voice overs and movies made for television.
She possesses a BA on Theater from the University of Puerto Rico and a MA on Arts Administration from Turabo University, Puerto Rico.