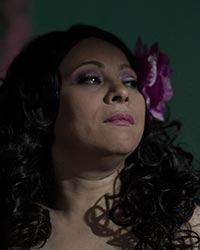 Birthplace: Dominican Republic. Based in New York.
Besides being renowned in New York, Fior studied Psychology at New York University, and dabbled in Theater, Cinema and Television.
Fior not only is Director but also teaches at the Department of Scenic Arts of the "Celines Toribio Art and Communication Academy", where one of her supreme achievements was the international tour "Kid's Fantasy", labeled by the press as one of the best children's shows. Her stage performance in "Minerva y Manolo, dos Mártires Contra el Jefe" established her as one of the youngest, best-trained performers of the NY area.
Not only has she with her occupation toured several U.S. and Canada cities, but in her native Dominican Republic she received recognition from Santo Domingo University as Scenic Arts' Most Prominent Actress. For her acting involvement in the "Mortales" series she was nominated for Best Comedy Actress.
The French Academy of Science and Letters gave her the high honor of being the first Dominican ever to receive the Silver Medal recognition granted to an actress.
In 1999, she was awarded the prize for Best Supporting Actress by ACE, the Entertainment Critics Association.
In 2002, she earned an award for Best Supporting Actress, and in 2004 an accolade for Best Drama Performance in her appearance in "Dos Fridas, Dos Diegos".
In the U.S. she was honored as a Prestigious Dominican Woman by influential groups, such as "Women in Action", "Dominican Liberation Party", "Dominican Pride", and "UnaRed".
Besides having acted for several TV-commercials, Fior also hosts a variety show called "Tu Momento Neoyorquino".
Besides "Medardo", she has also starred in two films: "The Substitute", and "Del Color de la Noche".