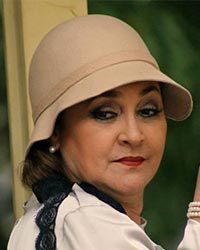 Vanessa was born in Guayaquil, Ecuador, in 1959.
She studied Journalism and Audiovisual Production.
At the young age of 8 and until she was 16, she worked on the television show ''Golden Voices of Ecuador '', learning from the hand of her father, Juvenal Ortiz.
Later on, she joined for 4 years her uncle Pedro Ortiz, at the popular TV variety show ''Chispazos''.
Ecuavisa network invited her to join the cast of the series "Los que vendrán". After this experience, she continued her acting career in soap operas, series and sitcoms.
She has appeared in many TV commercials, and has also worked as a news anchor.
Vanessa is a member of the live show "Montubio", at Guayaquil Historical Park and of the renowned group Danzas Jazz. Her most recent stage performance was in the play "Aladdin".