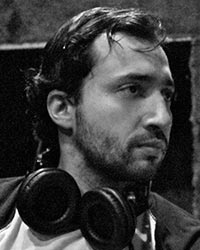 Charles was born in Chile, in 1980.
In 2007 he graduated as a Sound Engineer at Instituto Profesional AIEP in Santiago.
He first started working in his hometown, and in 2008 he moved to Ecuador and was hired by the TV network Ecuavisa, where he worked as an audio post-producer, music composer and sound montage technician of live shows, dramatic programs and promotional videos until 2011.
Between 2011 and 2012, he was called to join the staff of Teleamazonas TV Channel as a post-production sound engineer.
In 2013, he returned to Ecuavisa, where he is currently working.
This is a list of some Ecuadorian productions for which Charles has designed the audio:
Los Secretos de Toño Palomino.
El Cholito
La Panadería I y II
El Exitoso Licenciado Cardoso
Raymundo y el Fin del Mundo
Lucho Libre
El Combo Amarillo
Nadie como Nadia
La Taxista
La Pareja Feliz
La Tremebunda Corte
Aída
Tres Familias
Así pasa
Mundial de la Risa
Ecuador tiene Talento