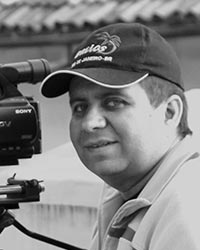 Harry was born in the Ecuadorian province of Manabí, in 1975.
During his childhood he co-hosted several children's programs.
After completing elementary and middle school in Ecuador, his family moved to the U.S., and he finished high school in New York City. It was at Digital Film Academy (NY) where he got his professional training, specializing in audiovisual production.
Subsequently he continued his education, attending several seminars, workshops and courses in Boston, Massachusetts, and in Barcelona, Spain.
Before relocating in Ecuador, Univision (based in Miami), offered him the opportunity to work as a production assistant for its successful talk show "Cristina".
Once back in his country, he got hired by several channels and TV networks, including Televisión Manabita, Canela TV, Canal Uno and Ecuavisa (high rated shows like Sin Límites, De la Vida Real, Está Clarito, Los HP, Sótano Deportivo, Los Especialistas, Niño Esperanza, Sueños de Juventud, Improvisa, La Sazón de mi Tierra, Causa Justa, Ecuador con Sentimiento, El Show de Hilda Murillo, among others).
He has also produced many video clips for famous Ecuadorian singers, documentaries and TV spots for major brands, as well as special events, such as "Miss Universe in Ecuador".