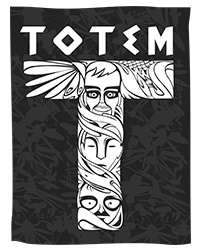 Los Tótem S.A. is a video post-production company that was founded in Guayaquil-Ecuador, in 2001, to provide visual effects and computer-generated animation services.
Three renowned media professionals are partners in this company:
JAIME HACAY (Born May 9th, 1976). He has a Graphic Design Degree from ITSU, and he has been a professor for over 10 years at IGAD (Digital Graphic Arts Institute).
JUAN PATRICIO ZANCHI (Born July 21st, 1973). He is a renowned professional with extensive experience in the post-production field.
PEDRO MÁRMOL (Born April 29th, 1970). He graduated from Vicente Rocafuerte University. He was one of the founding professors of the Graphic Design and Media Production Schools in ITSU, ESPOL and Catholic Universities in Guayaquil.
Over the years, Los Tótem has always been involved with the latest technological resources in order to provide its customers with the highest quality standards available in the market.
Some of the processes that handle post-production are:
Cel Shading 2D Animation
CGI 3D Animation
Character Animation
Simulations: water, hair, dynamics, etc.
Editing and Colorization
2D and 3D Tracking
Replacement of Objects
Rotoscoping and painting
Integration of CGI objects into actual movie clips
Also, in the movie business, Los Tótem provided post-production effects and rotoscoping for the short film "Tic Tac", produced by director Nitsy Grau.